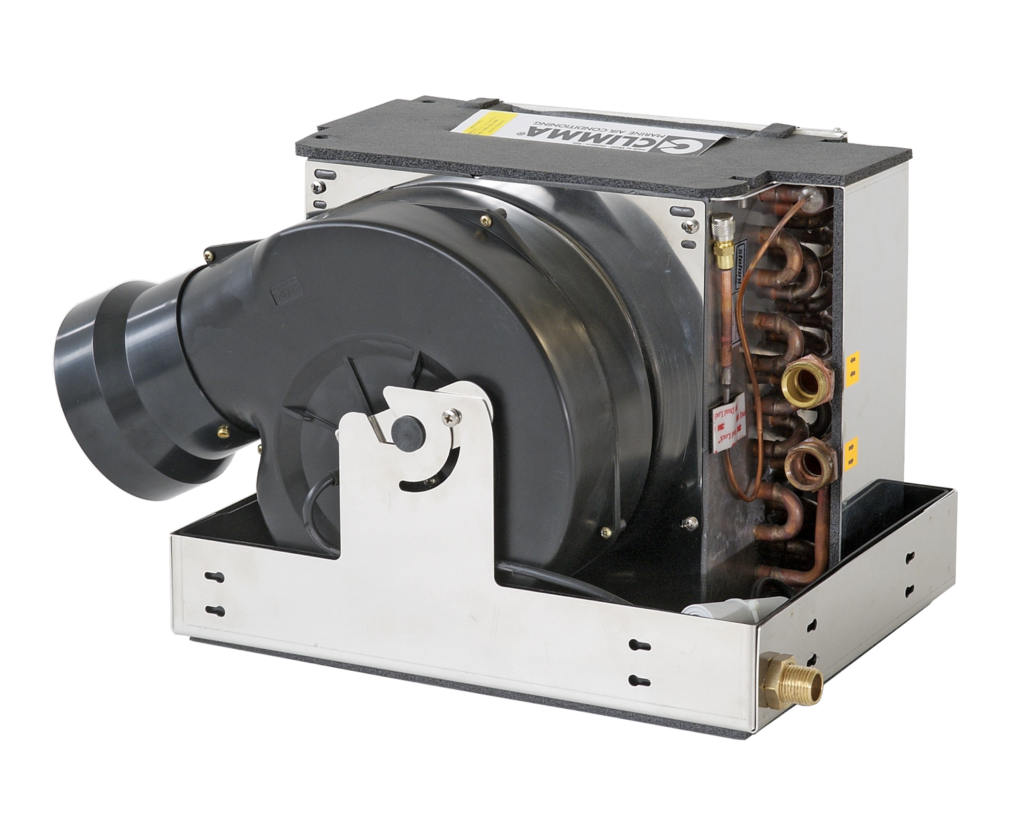 Climma EV fancoils are a major step forward in both design and performance, the result of a 25 years' experience and knowledge in the manufacture of marine air conditioning systems.
Our new Climma EV fancoils overcome the main critical issues of marine air conditioning systems: effective removal of condensate water, blower position and efficiency and reduced noise and vibration.
Available in a wide range of sizes, from 3.000 to 24.000 Btu, all with optional electrical heaters; Climma fancoils are fitted with powerful blowers extremely quiet in operation and fully adjustable on installation.

Quiet operation

Smallest size

Dry-pan system avoids condensation

Powerful and adjustable blowers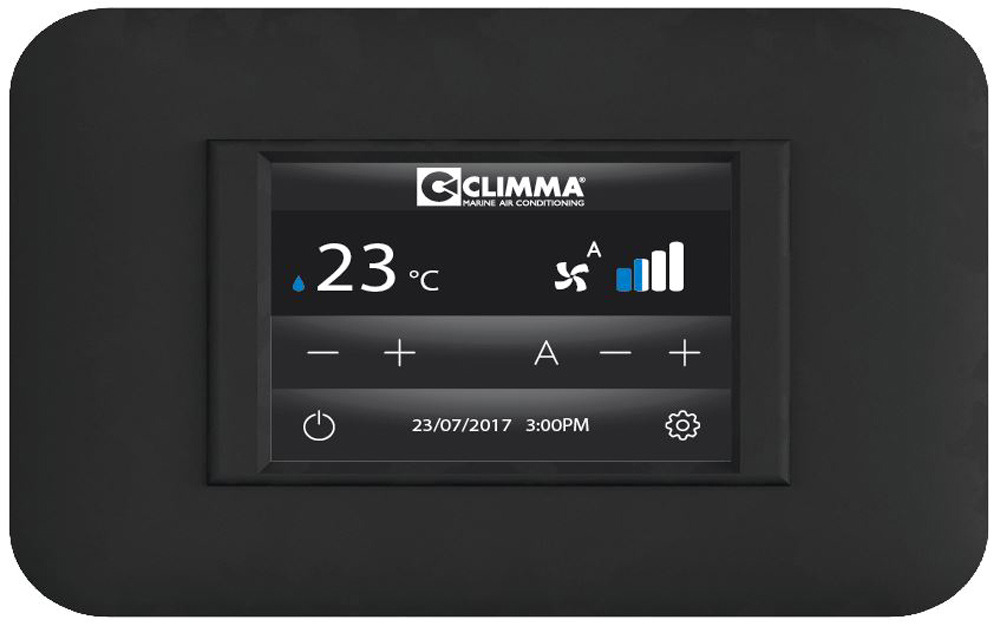 Climma C-Touch
All the Climma EV serie fancoils have been studied to work with the new Climma C-Touch control. The new Climma C-TOUCH thermostats has been designed to be easy to use and simple, to get the best out of your climate control.
Weekly scheduler
Customizable interfaces and colors
Easy interface
Designed for Vimar, compatible with Bticino cover plates
LCD display 2,4' (320×240 px)
(Compatible with fancoil MV8 electrical boxes)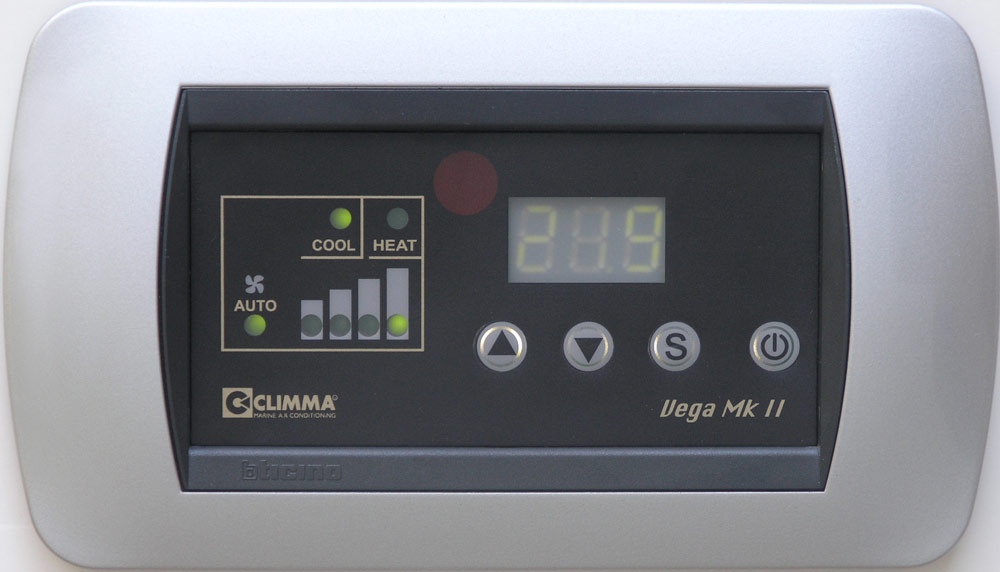 Climma MK2
As alternative, fancoils are all compatible with the digital Climma MK2 panel, which may also work with a remote control.
(Compatible with fancoil MV8 electrical boxes)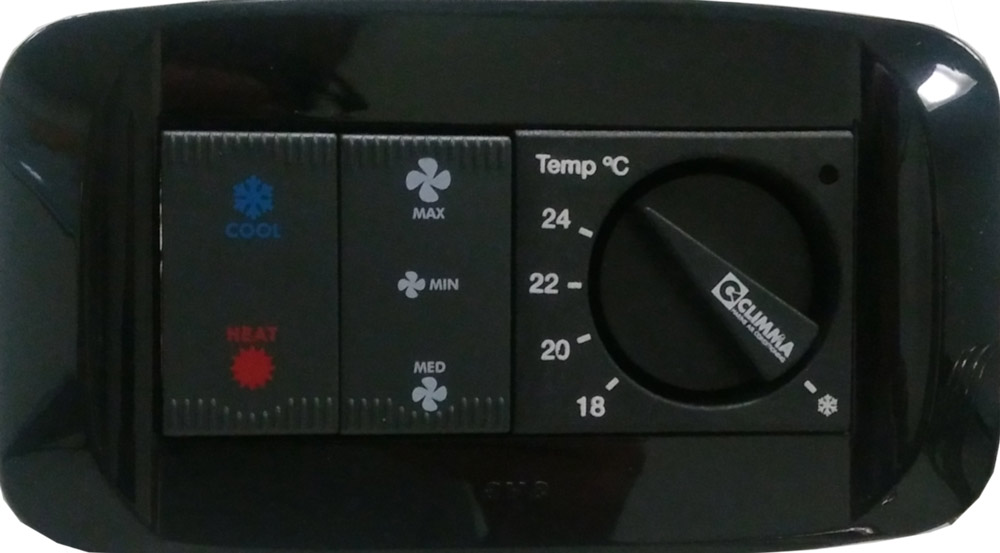 Climma mechanical thermostat
For an easier control, a mechanical 3 speed control can be installed, allowing to control functioning mode, fan speed an ambient temperature.
Thermostat is available in a standard version, for cool only fancoils, or for 2 fancoils.
(Compatible with fancoil MSCA electrical boxes)
Electronic controls
MV8 control – 8 speed electronic control for fancoils, compatible with digital displays C-Touch and MK2
MSCA control – 3 speed control for fancoils, compatible with Climma mechanical thermostat
Air kits
All our fancoils can be easily installed with our premade kits with air accessories.
Air kits contain all the accessories necessary for the air-distribution of the fancoil, in details:
Pre-insulated flexible air duct
Duct-plenum connection nipples
Plenum for air supply grill
Return and supply air grilles
To get more details log-in to look at our document section, or get in contact with our sales team.