Climma variable speed DC chillers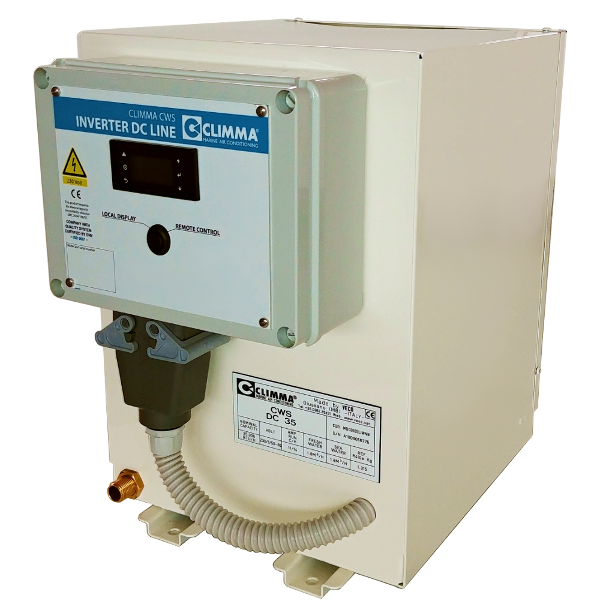 The new Climma DC variable speed chiller is the result of careful design and innovation based on over 40 years manufacturing experience to optimize the energy efficiency of marine air-conditioning chillers.
Climma's DC chiller is driven by the unique water-cooled inverter lowering the power requirement by up to 50% compared to traditional chillers.

Eco mode for night generator or energy efficiency

Variable power ensures energy savings

Unique water cooled Climma inverter

No start load thanks to inverter technology
Variable power from a single air-conditioning system
Climma's new DC chiller is programmed to run at the optimum speed; depending on the heat load requirements, the compressor frequency varies controlling the output capacity from the minimum to the maximum, depending on the model.
Unique Water-Cooled Inverter
First in the marine industry, Climma's water cooled inverter protects the compressor from excessive temperature and irregular voltage supply, allowing it to be installed in the engine room without additional ventilation and keeping inverter consumption under control.
Climma control delivers modulated power
Heating and cooling capacity is managed by the Climma Intelligent Control unit (CIC) which uses specially configured algorithms to ensure maximum efficiency.
ECO mode
Climma DC chillers provide further efficiency gain through a special ECO mode. ECO mode enables the chiller to work when only a courtesy/night generator is working or even while on the dock with a limited shore power supply.
No Start Load
Thanks to the innovative inverter technlogy, Climma DC chiller requires no additional amps to start the compressor.
Modular systems up to 1 mln Btu
All Climma DC chillers are available for a modular installation, allowing for redundancy and more efficiency thanks to the centralize control; modular system also provides lots of options: frame and manifold to make the installation easier and a unique electrical box for power connections.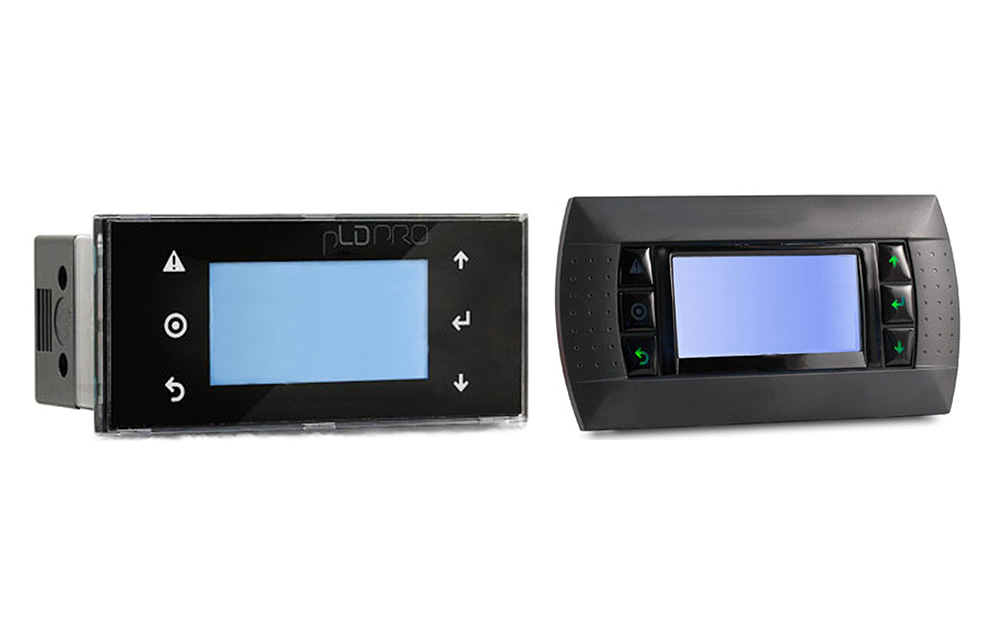 Remote digital display
A secondary display can be installed remotely on each Climma DC chiller, leaving the main display on the electrical box of the chiller and allowing for a secondary control with the exact same functions as the main one; there are 2 different version possible: a small and a bigger one, both with the same functions.
Remote mechanical panel
A mechanical remote control can be installed on each Climma DC chiller, leaving the main display on the electrical box of the chiller and allowing for a secondary remote mechanical control that allows to turn on and off the chiller, to change the operation mode from heat to cool, and to control ECO mode.
Modbus interface
All DC serie chillers allow to connect to a Modbus network, through a simple adapter that can be installed directly on the chiller electronic control.
Sea water sensor
All standard DC chillers already include a fresh water meter to measure and record fresh water flow; on the DC130 there is also a sea water meter included in the unit to measure and record sea water flow, which is optional on the other DC chillers. The Sea water sensor can be easily added to the unit as the connection is already pre-cabled in the standard electrical box and there is no need of software update as the sensor is already configured.
Water Kits
All Climma DC chillers can be easily installed thanks to our sea water accessories and fresh water accessories.
More details in our documents directory, or get in contact with our sales team.